Written by Marco Carvajal
2021 Mazda CX-5 Signature AWD Turbo
The CX-5 is a compact crossover SUV produced by Mazda in Japan, as I test drive the CX-5 Signature AWD Turbo, the top-tier trim level, the road becomes shorter and time flies as you wish to keep driving.
The CX-5 started to be manufactured for the 2013 model year lineup. Today a few years later, the CX-5 keeps getting better with a more redefined modern-design and new trim models with amazing dynamic performance.
Who doesn't want luxury and beauty in a compact crossover SUV?  It gets better when you add a powerful Skyactiv-G 2.5 Turbo engine delivering up to 250 hp and 320 lb-ft of torque. Don't stop there, the new CX-5 Signature is all-wheel drive.
Car beauty and performance sounds great together, but a car like this can be very expensive to buy. Let's add value into Mazda's buying experience, you can pay a low price from $25K to $37K for a brand new Mazda CX-5.
Yes, the starting base price CX-5 Sport costs only $25K. Even the most experience trim, that one I am test driving, the CX-5 Signature is still affordable compared to the competition, priced at $37K. The Mazda CX-5 seems to be one of the best-priced compact crossovers.
Mazda continues producing amazing cars at a value price that look very attractive on the road, and the new Mazda CX-5 is not the exception to this rule.  It is very easy to fall in love with the CX-5. The low affordable price can help you achieve your dream of driving a new car.
This is the first Mazda car designed with the new Mazda's Kodo, the soul of the movement, design language. As we understand this new design philosophy one can see the success in the result with a perfect exterior design.
Our new Kodo "Soul of Motion" design language abounds with graceful, yet energetic, lines. Like the effects of wind or the flow of water, Kodo is a unique expression of power and beauty seen in instantaneous motion at the very moment motion begins. It's a cheetah pouncing on its prey. It's the moment a sword strikes in the ancient Japanese art of kendo. It's instantaneous power, speed, dignified tension, and sophisticated beauty. And it's highly seductive.
Continuing with more enhancements, this is the first full Skyactiv car to utilize a rigid, lightweight platform combined with a range of engines and transmissions to reduce emissions and fuel consumption.
The CX-5 shares its platform with its brothers Mazda3 and Mazda6.
Trims and Pricing for the 2021 Mazda CX-5
Pricing is not always the prevailing factor when purchasing a new car, but is definitely a very important element in the equation to decide what car to buy.  Mazda's pricing is smart but not easy to achieve, producing a car for almost every budget. You can buy the base CX-5 for only $23,370 but if you decide to have a high-end engine and premium features then the Mazda CX-5 Signature can be yours for $37,505 MSRP.
Besides pricing, it is also good to have different levels of choices, options, and features, something that you can definitely find on the CX-5 lineup with great models like the Carbon Edition, Touring, the CX-5 Signature model that I am driving, or even the base trim model Sport.
2021 Mazda CX-5
SPORT
$25,370 Starting MSRP
2021 Mazda CX-5
TOURING


$

27,110 Starting MSRP
2021 Mazda CX-5
CARBON EDITION


$

28,955 Starting MSRP
2021 Mazda CX-5
CARBON EDITION TURBO


$

30,760 Starting MSRP
2021 Mazda CX-5
GRAND TOURING


$

30,560 Starting MSRP
2021 Mazda CX-5
GRAND TOURING RESERVE


$

35,385 Starting MSRP
2021 Mazda CX-5
SIGNATURE
$37,505 Starting MSRP
The 2021 CX-5 is the last model of the current generation, the new 2022 CX-5 is just starting to be delivered soon and brings new changes into the CX-5 lineup, especially a different exterior design.
You can test drive both CX-5 models 2021 and 2022 and decide what you like more. Both are beautifully designed but I feel the 2021 model is more sporty and sharpy, while the 2022 Mazda CX-5 model is more modern.
The 2021 Mazda CX-5 stands out for its modern design and impressive driving experience. The new 2021 CX-5 includes several upgrades and enhancements, it feels like a higher-end vehicle. The center screen is larger than last year's model.
The CX-5 is equipped with Mazda's newest infotainment interface. No more touchscreen functionality, but the increased width size makes the layout look less cluttered and more clear than before.
For most car drivers the CX-5 will satisfy all your expectations with its largest infotainment display, new i-Activsense safety features, and a stylish new trim model Carbon Edition.
The rear camera resolution is very sharp. Android Auto and Apple CarPlay are now standard.
Several features and enhancements add to the CX-5's exquisite architecture, affordable price, and powerful turbo engine that brings the CX-5 to a high-end level.
Driving the CX-5 feels great, you can move fast with quick transitions from left to right keeping very precise control and performance. Driving the CX-5 you can corner at higher speeds than other SUVs, without screeching tires or feeling like you're out of control.
The CX-5 lets you drive fast and keep control at all times.  This is one of the best small crossovers you can drive, especially the top-of-the-line CX-5 Signature trim I am test driving.
2021 Mazda CX-5 Highlights
These are some of the reasons to drive a CX-5. As I drive the Signature trim edition I like discovering new features and enjoying great performance on the road.
All displays, gauges and buttons have been intuitively positioned, to limit distractions and keep you better connected to the road ahead
Delivering up to 250 hp and 320 lb-ft of torque
Off-road Traction Assist
Skyactiv-G 2.5 Turbo engine
Large 10.25-inch center display
i-ACTIV AWD system
G-Vectoring Control Plus
Rear Cross Traffic Alert
Smart Brake Support
i-Activsense
In-car Wi-Fi capabilities
MyMazda App
Android Auto
Apple CarPlay
Mazda Connect
Premium 12-speaker Bose audio system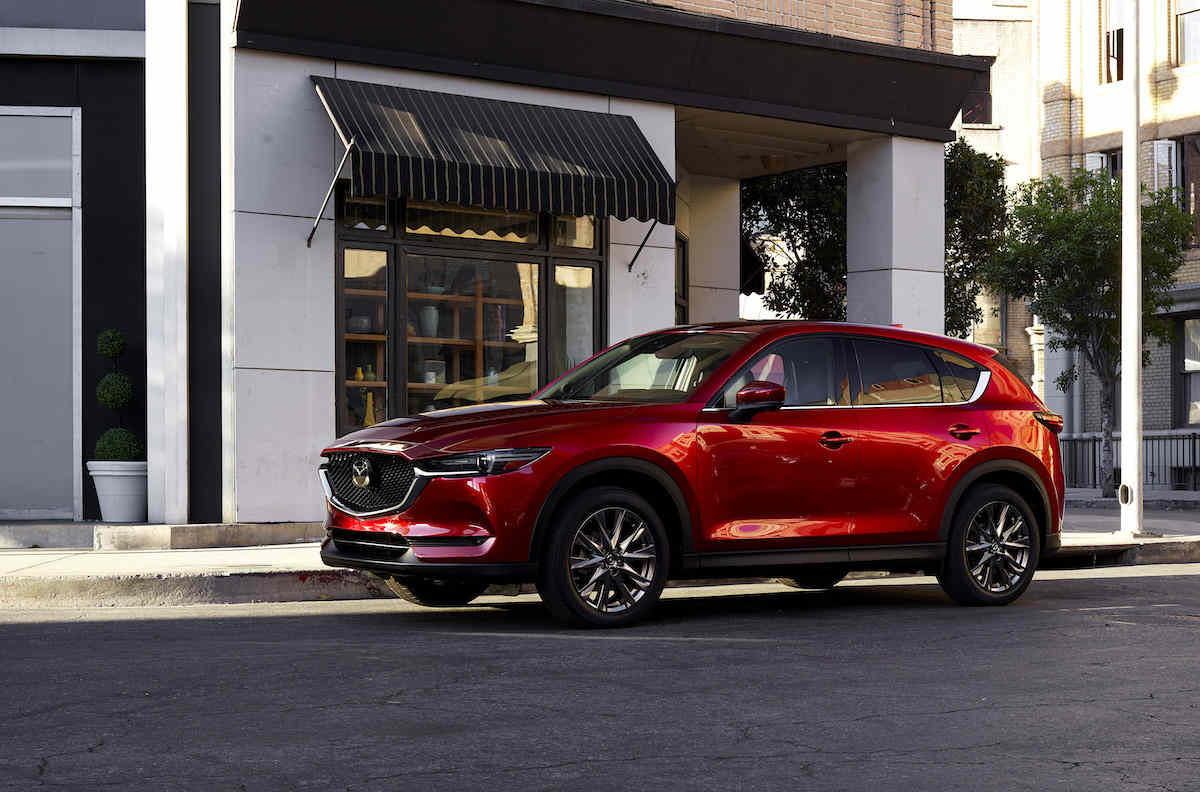 The Mazda CX-5 Signature stands out for its modern design, excellent performance with its 250 hp Turbo engine, and great pricing. Very comfortable inside, many nice features and also a beautiful exterior.
The CX-5 Signature is a very luxurious and spacious car priced at less than $38,000.
If your budget to buy a new car is less than $38K, there are other CX-5 models available starting at only $25K.  Great price, good value, and a new car warranty. With low prices like this, there is no reason to buy a used bar.
It is difficult to find such a beautiful car like the 2021 Mazda CX-5 for such a low price.
The post Mazda CX-5 Best Priced Crossover appeared first on AutomotorPro.com.